Gwen Voorhies Fine Art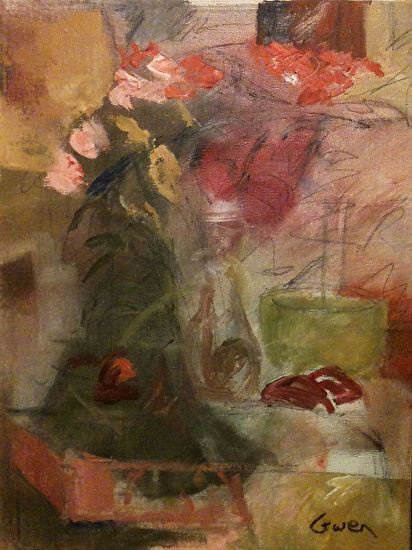 I create paintings filled with memories and illusions of people, places and objects.
The images vary from abstract to photorealism, skills it has taken me years to learn. There is often a sense of a calligraphic line or a "gestural" abstract quality to my work, a feature found even in some of my earliest pieces which resurfaces when I am playing with paint. It is this sense of play that seems to delight the viewer...and challenges my artistic process.
I have studied with many different art instructors, some for several years. Lately though, I find myself returning often to the advice of the late Elmore Morgan, a Contemporary Landscape artist. I took a workshop from him after the art critic Peter Frank, juror of the 2008 Southern Open event, said he saw a similarity of my brushwork style to Morgan's that I hadn't noticed. Once there, I struggled with one of Morgan's assignments in which you experiment with color, shapes and combining various mediums. If I remember correctly Morgan believed each artist has a set of recurring themes we return to over and over again and he thought it was vital to develop our innate sense of color combinations truly making them our own and incorporating them with those themes. At a recent workshop with Laurence Young those colors and shapes resurfaced in an exciting new direction and I have been struggling with the transition, not quite sure where I am headed.
Now it is the changes of light which create a color change on shapes and reflections on surfaces which inspires me to paint. The subject matter is becoming secondary to these influences. A sense of balance and structure is sometimes repeated in the paintings as I combine paints and charcoal/pastel. I find myself thinking of painting in a completely different way, fascinated not only with the process of creating a piece but in an effort to capture that ethereal movement created by the changing light. This website gives me the opportunity to share my visions with the world. Thank you for taking the time to visit and view my work!